Dec 15, 2012
What the Fudge!?! Mother Spends 18K On WHAT For Christmas?!?
By Mama G. LeDish
We published an article last summer about Sarah Burge, the mother who gave her seven year old daughter a voucher for plastic surgery on her birthday. Here is an update on what she plans to give her young daughter's for Christmas.
http://www.dailymail.co.uk/femail/article-2248079/Human-Barbie-Sarah-Burge-I-ll-spending-18-000-kids-Christmas–including-plastic-surgery-vouchers-8-year-old-girl.html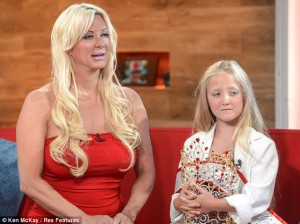 This reminds me to thank my Mom for teaching me that it's who you are that makes you beautiful, not what you look like.  I LOVE YOU MOM!
Viva la Vivi!
NOTE: The opinions expressed by the bloggers on Mama LeDish are theirs alone and do not represent the opinions of Fifi Delish Holding or its subsidiaries, affiliates, sponsors. We do not claim to be experts who have all the answers, we're just sorting through these issues just like everyone else.  Fifi Delish Holding and its subsidiaries are not responsible for the accuracy of any of the information supplied by the bloggers or the content we share from the web.