Aug 10, 2012
Fridays with Vivi™ (August 10, 2012)
By Mama B. LeDish
The Food of the Week is Honeydew! Go crazy for "Mad Melon Mix Up" and rock the Friday Jam!
Fridays with Vivi™ is a family ritual that encourages kids to try new foods! A cleverly disguised, digestible dose of kitchen and wellness education served with a side of Friday Jam (kid-tested to guarantee it will put the giddy up in your get down). As with all things Vivi, it's designed to establish healthy habits and warm memories that will last a lifetime.
VIEW HERE: http://fifidelishllc.createsend1.com/t/ViewEmail/j/73D1D0931BE7B066
Subscribe to receive Fridays with Vivi via e-mail at: http://www.viviledish.com/company/subscribe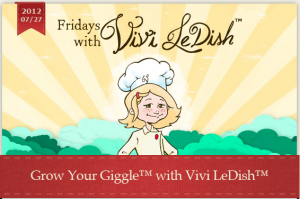 NOTE: The opinions expressed by the bloggers on Mama LeDish are theirs alone and do not represent the opinions of Fifi Delish Holding or its subsidiaries, affiliates, sponsors. We do not claim to be experts who have all the answers, we're just sorting through these issues just like everyone else.  Fifi Delish Holding and its subsidiaries are not responsible for the accuracy of any of the information supplied by the bloggers or the content we share from the web.