Aug 31, 2013
10 FAMILY RULES THAT GET KIDS TO TRY NEW FOODS
By Mama G. LeDish
I believe expanding a child's palate will increase the likelihood they will make healthier choices later in life. Easier said than done, but it is possible and it's not as painful as you think.
I recommend starting with these ten fundamentals:
The key to success is to get started as early as possible.
Expose children to a variety of foods as soon as possible (in utero!)
Involve children in preparing foods when possible.
Encourage a sense of adventure. Reward "trying" food, not finishing their plate.
Avoid making an issue if they do not finish their plate (unless there is a medical reason) – encourage them to try everything on their plate. This helps establish healthy hunger cues. I recommend requiring a set number of bites (one bite for each year of age, 2 bites, 4 bites, etc.), 9 times out of 10 my son finishes after he tries it. You might (make that WILL) have some standoffs, stay calm, be firm (not angry), and above all else: BE CONSISTENT WITH THIS RULE. The more consistent and calm you remain while enforcing this rule, the easier it will get with time.
Keep the child at the dinner table until everyone else is finished-you will be surprised how often they start to eat.
Let them try new foods when they are hungry – it will increase the odds they will eat it and enjoy it. I often let my kids cheat with their veggies before dinner. Works every time! (I will forever thank Melissa F. for that tip!)
Be mindful of what snacks they eat and when they eat them—it is possible to spoil their dinner! (This includes milk and juice!)
Family Rule: NO ONE IS ALLOWED TO COMPLAIN OR MAKE YUCK FACES AT THE DINNER TABLE!  This is a MUST from day one—that goes for mom and dad too. Your kids pick up on everything and we all know kids are more likely to do what you do than what you say. Consider it a tribute to your grandma each time you say, "If you don't have anything nice to say, don't say anything at all." (I recommend you make this a household rule that extends beyond the dinner table, life really is better if you learn not to dwell in the negative:)
Mind your manners. Manners make meals more enjoyable, but they also send the message that meals are special. You want mealtime to be associated with good times. The good news is that it's as easy as modeling the behavior with your spouse. Kids will naturally pick up on your habits, but there will be plenty of occasions you need to calmly and firmly remind them as they grow.
This approach will help establish healthy hunger cues and create positive associations with food and family dinner time.
If you're looking for a realistic, sustainable approach for expanding your child's palette, we highly recommend www.ViviLeDish.com. Did we mention it's free? Click here to learn more: http://www.viviledish.com/company/ourmission
[**NOTE: While rare, there are cases where a child's receptiveness to new tastes and textures could be a sign of a medical condition rather than normal testing of parental/child boundaries. Think about it, when you are sick, even your favorite foods don't taste appealing. Your goal is to create an environment where it's a positive experience to try a new food.Just one more reason to KEEP CALM to avoid adding stress and make an appointment to ask your doctor for a referral to a specialist. ]
 **************************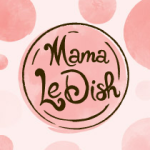 Create fun memories and healthy habits as kids learn to cook! Mama LeDish created Vivi LeDish to share her best battle-tested tricks she used to get her kids to eat everything! Vivi LeDish's recipes & activities tranform even picky eaters into little foodies!
SHOP OUR FAVORITE KITCHEN PRODUCTS HERE!
online
NOTE: All parents on this team are juggling multiple jobs & responsibilities: please excuse any typos (feel free to let us know if you find one we overlooked writing and editing on the go)! We do not claim to be experts who have all the answers, we're just sorting through these issues like everyone else.
The opinions expressed by the bloggers on Mama LeDish are theirs alone and do not represent the opinions of Vivi LeDish or its subsidiaries, affiliates, or sponsors. Vivi LeDish and its subsidiaries are not responsible for the accuracy of any of the information supplied by the bloggers or the content we share from the web.
You must be logged in to post a comment.