Jan 29, 2015
Super Bowl Recipe Makeovers The Kids Can Make
By Mama H. LeDish
Congratulations!  You survived the holiday season and now it's time to focus on the biggest game of the year! Both football fans and those watching only for the commercials look forward to the game day snacks.
Super Bowl Sunday isn't complete without cheese dip, ranch dip, and snack mix.  Check out Vivi's recipes for healthier, made-over versions of these classics that will satiate both your taste buds and your conscience.
This year consider letting the kids help and make memories that will make the day really special. You may not remember the winning teams from year to year, but you'll never forget the time spent with your kiddos!
Best of all, the recipes are kid-friendly and super easy with five ingredients or less.  Viva la Vivi!
MOMveeta (Velveeta Dip Makeover)
I believe it might be required by law to serve cheese dip during the Super Bowl.  Now you can enjoy this quintessential game day food the all-natural way. No processed cheese, please.  
CLICK HERE OR THE RECIPE CARD PHOTO TO GO TO RECIPE IN VIVI'S COOKBOOK!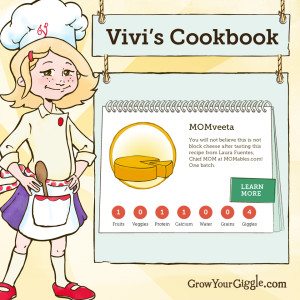 A Mama LeDish ORIGINAL, this yum-azing ranch dip is packed with calcium and protein!  You may be tempted to DRINK IT , but we recommend serving a tablespoon or two with veggies or chips.
CLICK HERE OR THE RECIPE CARD PHOTO TO GO TO RECIPE IN VIVI'S COOKBOOK!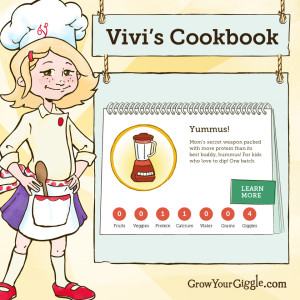 Gladiator Fuel (Snack Mix Rebrand)
Don't forget the snack mix – repeat – DO NOT forget the snack mix!  This energy-boosting concoction packs a punch and will fuel the crowd for a long day of cheering (or jeering).
CLICK HERE OR THE RECIPE CARD PHOTO TO GO TO RECIPE IN VIVI'S COOKBOOK!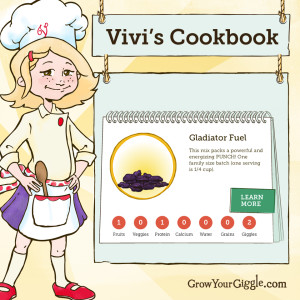 Check out 300 more great recipes the kids can make in Vivi's Cookbook at www.ViviLeDish.com. You can also follow us for daily inspiration on Facebook, Twitter and Pinterest.
**************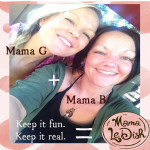 Jonelle & Nicki are both mothers of three and co-authors of Big Adventures for Little Foodies: Healthy Recipes to Grow Your Giggle.  They co-founded Vivi LeDish's Grow Your Giggle™ children's wellness program & the Mama LeDish parent companion blog. They channeled what they learned overcoming their own food addictions and raising their kids into a program designed to help empower the next generation with a healthy, happy future! They created a team of talented, like-minded parents who have donated their time in exchange for the chance to make a difference for the next generation. They've been working slow and steady for over 10 years to bring Vivi LeDish to life! 
We're determined not to let the demands of parenting squash the magic of childhood. Join us.
NOTE: All parents on this team are juggling multiple jobs & responsibilities: please excuse any typos (feel free to let us know if you find one we overlooked writing and editing on the go)! The opinions expressed by the bloggers on Mama LeDish are theirs alone and do not represent the opinions of Fifi Delish Holding or its subsidiaries, affiliates, or sponsors. We do not claim to be experts who have all the answers, we're just sorting through these issues like everyone else. Fifi Delish Holding and its subsidiaries are not responsible for the accuracy of any of the information supplied by the bloggers or the content we share from the web.
You must be logged in to post a comment.